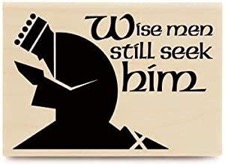 Wise Men still Seek Him…
The classic American bumper sticker reminds us that all the busyness of the weeks before Christmas looking for presents for our nearest and dearest was started more than 2000 years ago by the Magi offering their gifts to the infant in the manger. But those magi can remind us of some more profound truths.
The magi were led to Jesus by a sign that they understood. They were astrologers and looked for message in the stars – and this is what God gave them. 
When the magi did not find the baby where they expected at the palace, it was in the scriptures that they found their direction.
When the star stopped over the place in which the baby lay, the magi 'rejoiced exceedingly with great joy'.
When they finally saw the baby they 'fell down and worshipped'.
Once they had encountered Jesus, it changed their path. They were warned in a dream not to follow the same route home.
Many of us may have made New Year resolutions – promises to turn over a new leaf, to follow a new way of life – what if our new path were to follow the path of repentance that leads to Jesus?
Throughout the Bible (and especially in the Psalms) we are told that if we seek the Lord, we will find him, he will hear us, he will answer us, he will love us. Jesus is the Way (John 14:6). 'Seek and ye will find.' (Matthew 7:7). 'Seek ye first the kingdom of God.' (Matthew 6:33). 'He rewards those who earnestly seek him' (Hebrews 11:6). 
The magi were wise. Wisdom is about searching for the truth. The truth will always lead us to Jesus.
Lucy Holden