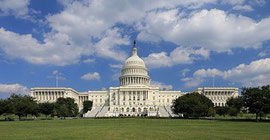 1 Corinthians 3


The recent events surrounding the storming of the Capitol in Washington reminded me of a text from Paul's First letter to the Corinthians which comes from a reading set for today's Morning Prayer. In it Paul reminds the congregation that he could not address them as people who live by the Spirit but as people who are still worldly—mere infants in Christ because there is jealousy and quarrelling among them. In verse 16 he writes, "Don't you know that you yourselves are God's temple and that God's Spirit dwells in your midst?  If anyone destroys God's temple, God will destroy that person; for God's temple is sacred, and you together are that temple."
It is known that the Capitol in Washington was conceived by its founders as a place where free speech and democracy would prevail. Thomas Jefferson in 1812, hailed it as the first temple dedicated to the sovereignty of the people.  It also became known as the Temple of Liberty.
I am not equating the elected occupants of the Capitol with the Church, although prayers are said at the opening of sessions. I do however see a link. As individuals we are ultimately responsible for our actions even with our imperfections and weaknesses. Paul also writes "Do you not know that your bodies are temples of the Holy Spirit, who is in you, whom you have received from God."
And so today it is perhaps timely to remember that we each have a responsibility as Christians to seek God's wisdom, through prayer, and to listen for his voice and guidance though the Holy Spirit, to discern his will for us and to have the courage to follow his will in our words and in our actions.
John Hillier - Retired Priest