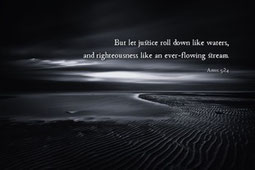 Worship as living justice, kindness & humility.
'I hate, I despise your festivals, and I take no delight in your solemn assemblies... But let justice roll down like waters, and righteousness like an ever-flowing stream.' (Amos 5.21, 24)
Here we are, back in lockdown, and having decided to cancel our gathered worship for public health reasons, we greatly miss being able to worship together physically. But in this morning's Old Testament reading, we hear about a different kind of barrier to public worship, namely the Lord's rejection of worship which reflects not justice but unrighteousness. 
Writing in the 8th Century BC, the prophet Amos, formerly a shepherd, was called to highlight God's judgement on the corruption of his people, who continue to worship, whilst failing to live the commandments. In particular they abuse the poor, pervert justice and deal deceitfully. It is a sobering reminder that even more fundamental than right worship is right action, including love of neighbour, care for the poor and upholding justice. 
At present our worship may be curtailed, but alongside prayer and online worship, there is much that we can do to highlight the injustices and needs of our world... In the last week alone we witnessed anti-democratic protests in America, a report on the abuse of women and children in Ireland, and an outcry against paltry food hampers for impoverished children in the UK. As we steer a course through this global pandemic, let us rediscover the character of worship in terms of God's concern for justice & righteousness, ensuring that 'justice roll down like waters, and righteousness like an ever flowing stream.' As another prophet Micah put it, 'He has told you, O mortal, what is good... but to do justice, and to love kindness, and to walk humbly with your God?' (Micah 6.8)
Rev James Shakespeare