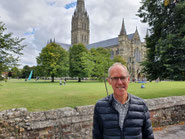 *Salisbury Cathedral – mass vaccination hub*
Shot in the Arm

 'Alas for those who lie on beds of ivory, and lounge on their couches …who sing idle songs to the sound of the harp' Amos 4.6
 What on earth am I here for? That is the question behind this new series on 'purpose'. Living without a clear sense of purpose brings emptiness, complacency, and an indifference towards the needy. 
This was the fate of rich people in Amos' time. Lounging on their luxurious couches, they strummed meaningless songs on their harps, neglecting the poor. It is a scene of injustice, hedonism and idolatry.
It is a different scene in today's Psalms. There the harpist sings songs with a purpose: the exultation and praise of God: 'I will extol you…for ever and ever' (Ps 145.1); 'I will praise the Lord as long as I live (Ps 146.2).
The contrast between these two types of harpist reveals something important about purpose: people engaged in the same activity can have widely divergent visions of that activity's aim.
A traveller passing by a medieval building site asks three working stone masons what they are doing. The first says 'Laying stones', the second says 'Building a wall'. But the third says 'I am raising a great cathedral.'
However limited or expansive their sense of purpose, no medieval mason could have imagined to which purpose their labours would be put in 2021, as cathedrals become mass Covid-19 vaccination hubs.
In Salisbury Cathedral, the organist is also finding fresh purpose as he plays soothing background music, including Bach's magnificent 'Jesu, Joy of Man's Desiring'. It provides the needy with a shot in the arm.
The Revd Dr Peter S Heslam is Director of Faith in Business, and an Assistant Priest at St John's.