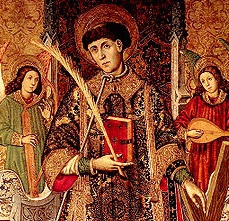 Saint Vincent of Saragossa
"In the world, you will have affliction. But take courage, I have overcome the world."
John 16:33
Today is the feast day of Vincent of Saragossa who, as was St Agnes from John's reflection yesterday, martyred by Emporer Diocletian in 304AD. 
Vincent was a deacon who lived in what is now Spain, and was arrested with his bishop when Christians were being persecuted under the Roman Emperor. 
The bishop was banished, but Vincent, as his deacon and assistant, was tortured and killed. His torture was horrible, we won't list it here, but he was given the opportunity to be released if he denounced his faith and turned over the book of Scriptures to be burned, but he refused. He survived all of this and remained constant in his faith, which inspired his jailer and led to his conversion.
In Vincent's story we have the witness of a man who stood up, in Christian love and faith, to the might of a Roman imperial government that did all it could to destroy him in life and in death. They were so outraged by him because Saint Vincent would not renounce his sacred ordination to the diaconate, would not renounce the truth of the Church, and would not renounce Jesus Christ even in the face of unspeakable and savage tortures.
Martyrs are heroic examples of what God's power can do. It is humanly impossible, we know, for someone to go through tortures such as Vincent had and remain faithful but it is equally true that we cannot remain faithful by human power alone, even without torture or suffering. God does not come to our rescue at isolated "special" moments. God is always with us and keeping Him central to our lives keeps our faith going from strength to strength. God will support us all no matter how big or small our problems may be. "God is supporting the super-cruisers as well as the children's toy boats." 
Sian Binley – Pioneer ALM