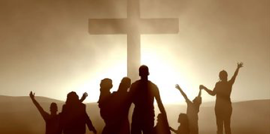 Living as the family of God

Jesus said, 'Who are my mother and my brothers? ...whoever does the will of God is my brother and sister and mother.'  Mark 3.31-35
What does it mean to live as the family of God? Like many cultures today, Jesus came from a close knit family, and his words to his mother & brothers, early in Mark's Gospel would have been profoundly shocking. Seeing Jesus' surrounded by crowds in Capernaum, they send for him. But Jesus, who has already left behind his birth family, in terms of ministry, indicates a radically new criterion for family membership, namely doing the will of God.
In other words, whilst our physical families remain vitally important and need our loving care, Jesus establishes in himself a new kind of family, the family of God, open to all. And in baptism we become members of this new family, our 'brothers' and 'sisters' all those who seek to do God's will; a family open to welcome all – whatever background – as God's beloved children.
Rowan Williams once spoke of the Church as simply a community of people gathered around Jesus. For Jesus is what draws us together: being in his presence, listening to his words, and seeking to do His will. Inevitably being Church during lockdown is challenging, as we are unable to 'be' together in the usual way. We can join in worship and connect online, but it's not quite the same. And this week, being the 'Week of Prayer for Christian Unity', we're thinking not only of our local Church, but of all our brothers & sisters – of many different denominations – around the globe. 
May we, at this time, remembering Jesus' words, strengthen our belonging as the family of God; may we, at St John the Evangelist, deepen our loving care & concern for one another; and may we, as we anticipate whatever kind of society emerges, post- lockdown, extend our welcome, hospitality and our caring presence, at the heart of our local community, in Cambridge & beyond.
Rev James Shakespeare