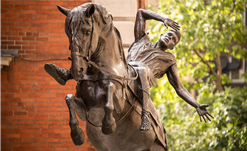 *The Conversion of St Paul – statue by Bruce Denny outside St Paul's Church, Covent Garden in London* 
Knowing Christ
 'I want to know Christ' Phil 3.10
 
What on earth am I here for? The second reflection in this series on 'purpose' falls on a day we commemorate the conversion of a man who lived a supremely purpose-driven life: the apostle Paul.                             
Earlier in his career, that purpose was to persecute the church. So resolute
was he in pursuing it, that his name (then 'Saul') struck fear into the hearts of early Christians. If he had supported the stoning of their beloved Stephen, who next would be at the receiving end of his 'murderous threats' (Acts 7.58; 9.1)? For now, with the High Priest's backing, he was on his way to round up and imprison followers of 'the Way' in Damascus.
But God stepped in. A blinding light and a voice from heaven struck Saul blind and brought him to the ground. 'I am Jesus of Nazareth, whom you are persecuting' spoke the voice. The immediate impact was on Saul's purpose. "'What shall I do, Lord?'", he asked. "'Get up', the Lord said, 'and go into Damascus. There you will be told everything that you have been assigned to do'" (Acts 22.10).
There we have it. The first step in finding our true purpose in life is to put this question to the giver and sustainer of that life: 'what shall I do?'. And the response we can expect is that we are given an assignment – a purpose.
What assignment was given to Paul that is also given to us? The answer comes in the verse from today's epistle cited above: to know Christ. If that sounds too simple to be a meaningful purpose, the rest of that verse puts some flesh on the bones. There he suggests that knowing Christ involves sharing in the suffering and resurrection of Christ.
This is a wonderfully liberating life-purpose as we face the challenges of this pandemic. Paul's purpose, before his conversion, was death and destruction. This virus appears to have similar intent, causing death and destruction on a global scale. Yet if we make knowing Christ our purpose, we can experience this pandemic in a different way. It can become an opportunity to participate both in Christ's suffering and in his resurrection power. This does not necessarily numb the pain but it does fill us with vision and vitality, and with a hope more lasting and contagious than this deadly virus.        
The Revd Dr Peter S Heslam is Director of Faith in Business, and an Assistant Priest at St John's.