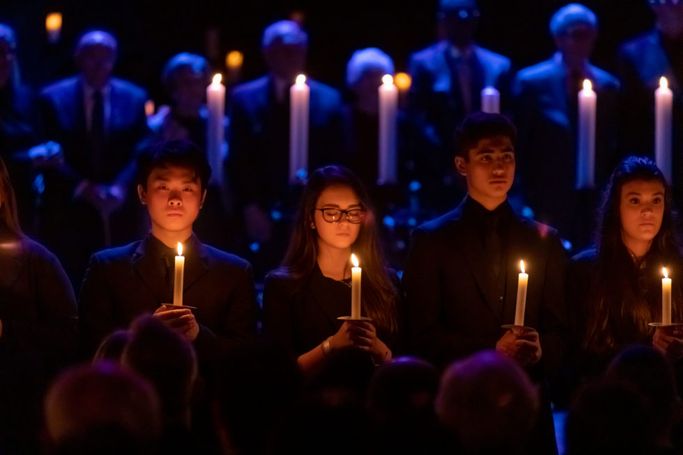 Today, 27th January, is Holocaust Memorial Day. Taking place on the anniversary of the liberation of Auschwitz-Birkenau, the largest Nazi death camp. It is a day set aside to remember the six million Jews murdered during the Holocaust, along with the millions of other people killed under Nazi Persecution and in genocides that followed in Cambodia, Rwanda, Bosnia and Darfur.
This year the theme is Be the light in the darkness. It encourages everyone to reflect on the darkness that humanity can sink to, but also the ways individuals and communities resisted that darkness and were able to 'be the light' before, during and after genocides. Amongst all the horrific stories of both the Holocaust and subsequent genocides, there are also stories of wonderful bravery and acts of kindness; stories of those who stood up for those who were persecuted, stories of those who did everything in their power to change what was happening and stories of deep forgiveness. Many of these stories have been collated by the Holocaust Memorial Day Trust, and are available here to be read and inspired by.
Amongst these memories there are also stories of very real human beings; those who took time to realise what was happening around them; those who don't fit neatly into a category of good and bad... Perhaps one of the best examples of this is the story of Pastor Martin Nieholler , a German Priest who is best known for writing the poem First They Came For. His story is perhaps a reminder that it is never too late to change our minds and that it also takes real bravery to realise we've been wrong.
Being the light in the darkness is something especially poignant to Christians in this season of Epiphany, as we look towards the Feast of Candlemas; where we remember Simeon's words that Jesus will be 'a light for the revelation to the Gentiles'. In times of darkness, we have a calling to share that light in the world, in whatever way we can. Sometimes we do that in powerful ways, sometimes we do it in very small but hopeful ways. And sometimes, like Pastor Nieholler, we don't get it right first time. 
Although we are not in a time of genocide, we are in a time where we are repeatedly shocked and saddened by the ever increasing number of deaths; including yesterday's announcement that deaths from COVID-19 in the UK had reached 100,000. Now too, we need to 'be the light', to be people that sow seeds of justice, hope and love in a grieving world. 
A prayer for HMD:
Loving God, we come to you with heavy hearts,
remembering the souls of all murdered during the Holocaust and in subsequent genocides.
In the horrors of that history, when so many groups were targeted because of their identity,
we recognise destructive prejudices that drive people apart.
Forgive us when we give space to fear, negativity and hatred of others,
simply because they are different from us.
In the light of God, we see everyone as equally precious manifestations of the Divine,
and can know the courage to face the darkness.
Through our prayers and actions,
help us to stand together with those who are suffering,
so that light may banish all darkness, love will prevail over hate and good will triumph over evil.
Amen