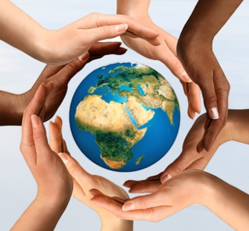 God-given gifts for our Common Good
'Now there are varieties of gifts, but the same Spirit; and there are varieties of service, but the same Lord... who activates all of them in everyone.'
1 Corinthians 12. 4-6
There are an abundance of gifts, given to everyone for the common good. 
Today's reading from 1 Corinthians 12 is startlingly relevant to this week's troubling vaccine wars. We are in the middle of a major global pandemic, and gifted scientists are working tirelessly to develop vaccines, that we might begin to overcome a crippling disease. And European nations, among the most privileged, are engulfed in a war of words over how best to share out these fruits.
God gives gifts to everyone, to be used for the benefit of others. In particular, to those who are 'in Christ', the Holy Spirit bestows a diversity of gifts, for the building up of the Church and its mission in the world. Different New Testament texts categorise these gifts ('Charismata') differently. 1 Corinthians talks about wisdom, knowledge faith and healing, among other distinct gifts. Romans 12 recognises act of mercy, service and leadership. And Galatians 5 encourages us to embrace fruits of the Spirit, including love, joy, peace, kindness and generosity, which shape how we use these gifts.
The difficulty, of course, is that we live in a culture which puts a high value on independence, competition and self-interest, over and above the Christian values of mutual dependence, co-operation and service of others. It feels like we are arguing over furniture on the ship's deck, while we are fast approaching icebergs; wouldn't we be better sharing out the lifeboats?
It is not a bad thing that the UK has worked successfully to procure good levels of Covid vaccines, for our population including those most vulnerable, but we have a duty – following St Paul's teaching - to co-operate with our neighbours (as does the EU), and indeed internationally, to ensure that poorer nations are protected too.
Lord, we praise you for your creative gifts, including those of scientists, and we ask that you would inspire us and our leaders, across the world, to be wise and generous, in sharing these gifts for the good of all people; through Jesus Christ our Saviour. Amen
Rev. James Shakespeare