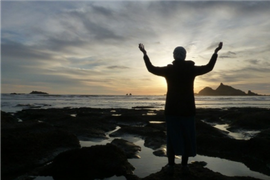 *Awakening the dawn*
God's Purpose for Me
'I cry to God Most High, to God who fulfils his purpose for me' Ps 57.2
What on earth am I here for? Welcome to the third reflection in this series on 'purpose'. Over the past few decades, public confidence in many once-trusted institutions of society has been in decline. It has been replaced by an emphasis on self-reliance, as witnessed by the burgeoning of self-help tools. A plethora of books, articles, blogs, websites and apps has broken forth that focus on finding one's personal purpose.
The pressure the global pandemic has imposed on our social institutions has served only to accelerate this individualising trend. It is perhaps not altogether surprising, therefore, that a mental health crisis has followed in its wake. Looking within for resources to help carry us through life's struggles certainly has merit compared to a dependency mentality. Self-help tools can be helpful. But ultimately it is only looking to God, rather than to ourselves, that counts as biblical wisdom.
This is the liberating message of today's Psalm cited above. For the Psalmist, it seems, fulfilling his purpose is not so much about the Psalmist but about God. His faltering attempt to fulfil what he may have inwardly perceived to be his life's purpose was not what mattered. What mattered was God's fulfilment of God's purpose for him. He had discovered, from having faced 'ravenous wild beasts', that it was not to his own resources he needed to look, but to God's.
Last Monday we considered in this series the Apostle Paul. Had he continued, following his conversion on the Damascus road, to look within for his purpose, he would have found it in persecuting Christians. It was a purpose of which he was proud, as it served as a badge of his zeal. Instead, however, he cried out like the Psalmist for God to fulfil God's purpose for him. It changed his life.
However counter-intuitive it might seem in today's self-help culture, abandoning an inner search for our life's purpose could be the first step to God fulfilling his purpose for us. It is in this, rather than in self-discovery, that lies true spiritual awakening and happiness. It will give us, with the Psalmist, good reason to get out of bed in the morning - perhaps even with his words on our lips: 'I will sing and make melody. Awake, my soul! Awake, O harp and lyre! I will awake the dawn' (Ps 57.7,8). 
The Revd Dr Peter S Heslam is Director of Faith in Business, and an Assistant Priest at St John's.