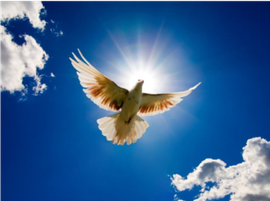 Holy Encounters 
Luke 2: 22-40
One of the alternate names for Candlemas is the Feast of the Holy Encounter. I love this description of the long-awaited encounter between Simeon and Anna and the infant Christ at the temple in Jerusalem. 
There are many holy encounters in the Scriptures, beginning with Adam and Eve walking with God in the Garden of Eden; Abraham entertaining angels; Moses and the Burning Bush and on to Mary and Elizabeth and messages from the Holy Spirit in the New Testament. They range from the dramatic, (clouds, rainbows, fire) to the unaware (Abraham entertaining angels), conscious and unconscious (Joseph's dreams), visible and invisible (Samuel's voice in the night), spiritual and corporeal (the writing on the wall). But nearly all of them are dramatic, life-changing, unasked for and unexpected. And there are lots of them. They account for possibly some of the most beautiful and moving passages in scriptures – Elizabeth's baby leaping in her womb on encountering Mary and Mary's incredible hymn of praise in response; Mary mistaking Jesus for the gardener on Easter morning; Pentecost; Paul being struck blind. 
I wonder if encounters with God these days take different forms. Maybe we are so busy complaining and worrying about our current situation that we have forgotten how to stop and listen. Maybe we have become too expectant that divine revelations will come in visions or dreams or signs that we have become blind and deaf to the presence of God around us. Holy encounters happen every day if only we take the time to notice them. If only we listen so we may hear. If only we open our eyes so we can see. God is there – in nature, in a conversation, a card, a look, a prayer. Every encounter can be a holy encounter.
A prayer of St Augustine: 
Look upon us, O Lord,
and let all the darkness of our souls
vanish before the beams of thy brightness.
Fill us with holy love,
and open to us the treasures of thy wisdom.
All our desire is known unto thee,
therefore perfect what thou has begun,
and what thy Spirit has awakened us to ask in prayer.
We seek thy face,
turn thy face unto us and show us thy glory.
Then shall our longing be satisfied,
and our peace shall be perfect. Amen
Lucy Holden