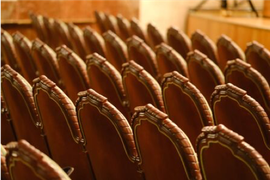 *No sound of music*
One Thing
'One thing I asked of the Lord, that will I seek after: to live in the house of the Lord
all the days of my life, to behold the beauty of the Lord, and to inquire in his temple' Ps 27.4.
What on earth am I here for? Welcome to the fourth reflection in this series on purpose.
This pandemic has stripped our lives of many of the things we used to enjoy – time spent with loved ones; on holiday; or visiting museums, concerts, stately homes and sports fixtures. We may wonder, given our current busyness, how we ever found time for them!
Being denied such things invites us to be more thankful for them. For what we used to take for granted we can now more clearly see for what they were – amazing privileges. It also provides an opportunity to think about what, out of all the things we used to do and look forward to doing again, really matters.
David was clear about the 'one thing' that mattered to him: dwelling in God's house and gazing on God's beauty. Yet we know from what the bible is unabashed to tell us about David's life that he did not always live as if this was the case. He frequently let God down and wronged other people. Having a strong sense of purpose did not insulate him from failing to live up to it.
But what does it mean to want to dwell in God's house and gaze on God's beauty? An obvious thing for a Christian might be to spend time in church in quiet contemplation. But most of the time our churches are currently closed to help prevent contagion. More importantly, as God is omnipresent, the entire universe is God's house. David says so himself, in answer to his question, 'Where can I go from your spirit? Or where can I flee from your presence? (Ps 139.7).
Perhaps we find a clue in something we have been considering in our homegroup: how we can love God with all our heart (our passions), our mind (our thoughts), and our strength (our abilities). This was for Jesus, after all, the most important commandment, more important even than loving our neighbour as ourselves (Mark 12.30-31).
The key to a life of purpose, it seems, is living a God-centred and God-loving life wherever we are with all the capacities we have been given. Without this, our lives may go back to being full of activity, even good and wholesome activity, but without a focus and direction that give them real significance. We can learn from David and his Psalm, as well as from the deprivations of this pandemic, that a purposeful life can be rich in the good things culture and society have to offer but is essentially a simple life of love oriented towards God.
The Revd Dr Peter S Heslam is Director of Faith in Business, and an Assistant Priest at St John's.