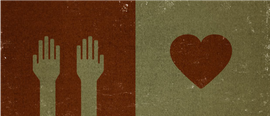 Clean hands and pure heart?
Mark 7:1-13
One of today's readings tells the story of Jesus being rebuked by the Scribes and Pharisees for allowing his followers to eat without having washed their hands. This was one of the Jewish rituals which Jesus addressed in his many sermons explaining how traditions are meaningless if the intention behind them is not true and heartfelt. Jesus supports his argument by quoting Isaiah: 'The people say they are mine. They honour me with their lips, but their hearts are far from me.' 
An expression we often hear is to describe someone as 'all talk', echoing the words of Jesus in expressing concern that people may purport to be Christians but without the actions or intention of heart to support their words. 
We are reminded to wash our hands constantly at the moment but that is not enough to stop the spread of the virus. We need to act in a thoughtful way too. 
There are times when we may feel far from God, and may struggle to remember the motivation and purpose for our existence. We may be finding it difficult to worship away from the togetherness of gathering in church. God knows our worries and fears and is listening and sharing even if we cannot put our thoughts into words. Even without our rituals and patterns of worship we can show our praise and devotion. They can be expressed through our actions both to ourselves and to others. Our actions can be inspired – God-breathed – and then our hearts and our hands will be clean.
A prayer of David: 'Create in me a clean heart, O God.
Renew a loyal spirit within me.
Do not banish me from your presence, 
And don't take your Holy Spirit from me.' 
Lucy Holden