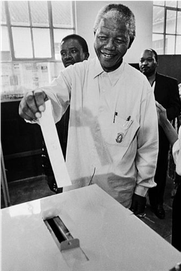 Today, 11th February is the 31st anniversary of the release from prison of Nelson Mandela.
He was raised as a Methodist and the Methodist Church of Southern Africa claimed that he retained his allegiance to them throughout his life.
Nelson Rolihlahla Mandela  (18 July 1918 – 5 December 2013) became a South African anti-apartheid revolutionary, political leader and philanthropist who served as President of South Africa from 1994 to 1999. He was the country's first black head of state and the first elected in a fully representative democratic election. His government focused on dismantling the legacy of apartheid by tackling institutionalised racism and fostering racial reconciliation. He studied law and working in Johannesburg he became involved in anti-colonial and African nationalist politics.  After the National Party's white-only government established apartheid he and the ANC committed themselves to its overthrow. He was finally arrested in 1962, and sentenced to life imprisonment for conspiring to overthrow the state.   However amid growing domestic and international pressure, and with fears of a racial civil war, President F. W. de Klerk released him on 11th February 1990.   Mandela and de Klerk then led efforts to negotiate an end to apartheid, which resulted in the 1994 multiracial general election in which Mandela led the ANC to victory and became president. Leading a broad coalition government which promulgated a new constitution, Mandela emphasised reconciliation between the country's racial groups and created the Truth and Reconciliation Commission to investigate past human rights abuses. 
Nelson Mandela was widely regarded as an icon of democracy and social justice, he received more than 250 honours, including the Nobel Peace Prize. He is held in deep respect within South Africa, where he is often referred to by his Thembu clan name, Madiba, and described as the "Father of the Nation".
Today's psalm (37), has "I was young and now I am old,  yet I have never seen the righteous forsaken or their children begging bread. They are always generous and lend freely; their children will be a blessing. Turn from evil and do good; then you will dwell in the land forever." 
I believe that Nelson Mandela's Christian upbringing and faith enabled him to stand firm in his faith and mission for justice despite his 27 years of imprisonment. 
Heavenly Father, you give hope to those who put their trust in you. Help us to stand firm in our faith as we journey through this time of pandemic, knowing that you are always with us whatever difficulties we may face.  Amen 
Details of Nelson Mandela's life and photo sourced from Wikipedia.