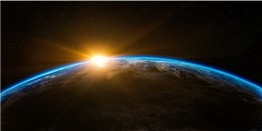 Sent To Save
'For God so loved the world that he gave his only Son, so that everyone who believes in him may not perish but may have eternal life. Indeed, God did not send the Son into the world to condemn the world, but in order that the world might be saved through him' John 3.16-17

What on earth am I here for? Welcome to the fifth reflection in this series on purpose.
There are many purpose-driven people in the bible. The writer to the Hebrews names some of them. They include Noah, Abraham, Sarah, Joseph, Moses, and Rahab. But the supreme example of a purpose-driven life, in the bible and in human history, is Jesus Christ.
What was that purpose? A Pharisee called Nicodemus wanted to know. He had already figured out that Jesus had a strong sense of purpose from the rumours he had heard from other Pharisees about Jesus' teaching and miracles, and about his crowds of followers. But Nicodemus wanted to know what that purpose was. The obstacle in finding out was the other Pharisees. Should they spot him talking with Jesus, he could lose his life, as he had already heard them murmuring death threats against this Galilean troublemaker.
So, Nicodemus decides to meet with Jesus under the cover of darkness. He also decides that his opening lines should be as respectful, affirming, and non-confrontational as possible. He makes a good job of it: 'Rabbi, we know that you are a teacher who has come from God; for no one can do these signs that you do apart from the presence of God.' (Jn 1.2). 
But in the conversation that follows, it becomes clear to Nicodemus that Jesus did not have a purpose of his own. He discovers, instead, that Jesus' purpose was to fulfil the purposes of God. What then were those purposes? The answer comes in two of the most beautiful, memorable and influential verses in the whole of scripture, cited at the top of this reflection.
At St John's church we hear these verses regularly in one of the most moving anthems in the repertoire of our amazing choir. It was composed by John Stainer (1840-1901), whose Crucifixion many choirs would now be preparing to sing in Holy Week, were it not for the pandemic. Stainer's purpose was to glorify God through the raising of church music standards, battling failing eyesight to achieve it.
Today we have an opportunity to consider two of the verses that inspired Stainer in that quest. What does God's purpose for the world, and what God did to demonstrate it, mean for our plans this week?  
The Revd Dr Peter S Heslam is Director of Faith in Business, and an Assistant Priest at St John's.