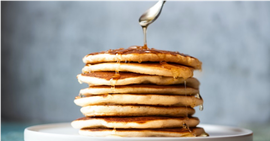 Shrove Tuesday
Many names for one day…Shrove Tuesday, Mardi Gras, Carnival. But they all signify that today is a day of feasting before fasting. The French 'Mardi Gras' means 'Fat Tuesday', from the practice of using up animals fats before the Lenten fast. 'Carnival' in Italy and Spain means 'goodbye to meat' for Lent. But that doesn't mean today is about stuffing our faces before we give up sugar, or fat, or meat for Lent. It is a day for being shriven; for confessing our sins and being 'shriven' or absolved before we begin the penitential season of Lent. 
We have had to give up so much in this past year. This Lent why not take something up instead of giving something up. Feast instead of fasting.
Fast from darkness; feast on light.
Fast from busyness; feast on silence.
Fast from anger; feast on trusting God.
Fast from our differences; feast on our oneness.
Fast from talking; feast on listening.
Fast from discontent; feast on gratitude.
A prayer of Pope Francis: Fast from hurtful words… and say kind words
-Fast from sadness… and be filled with gratitude
-Fast from anger… and be filled with patience
-Fast from worries… and have trust in God
-Fast from bitterness…and fill your hearts with joy
-Fast from pressures… and be prayerful
-Fast from pessimism… and be filled with hope
-Fast from grudges… and be reconciled
-Fast from selfishness… and be compassionate to others
-Fast from words… and be silent so you can listen
Lucy Holden