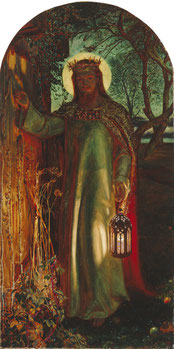 The Light of the World.
William Holman Hunt
(Manchester City Art Gallery - Wikipedia) 
"Ask and it will be given to you, search and you will find, knock and the door will be opened for you."
Verse 7 of chapter 7 of Matthew's Gospel, which is one of our readings for today. In this passage we are invited to knock, but in another passage from the Book of Revelation 3:20, we are invited to listen for the call of Christ and are encouraged to respond by opening the door to let God in.  
It is in the book of Revelation that St John records a vision of Christ declaring, "Behold, I stand at the door and knock; if anyone hears my voice and opens the door, I will come in and will sup with them." 
But both situations, searching for Christ and listening for his call involve an action from us, and when I think of such passages I am reminded of a famous pre-Raphaelite painting (or should I say paintings, because there are three versions), by William Holman Hunt who was inspired by the passage from Revelation to paint this picture. 
Although the image here is small, you may be able to detect that there is no handle on the door.  This is intentional and suggests to the viewer that perhaps there is a handle on the inside.  It can therefore only be opened from the inside……..Jesus is announcing that he is present, he is available to anyone who responds to his call.  There is also an allusion to the inner self, of the need to explore who we are and what purpose we have in life….or more importantly what purpose God has for us….it invites us to examine ourselves and to put out our hand to grasp the handle, to open the door and let Jesus into our lives… and the passage ends….to sup with him….to share a meal….to break bread with him.
In a video discussion between the Archbishop of Canterbury and Hannah Steel, about this year's Lent book, 'Living His Story', by Hannah, he comments that the word of God is not just the written word but His presence.  God speaks, Jesus speaks, the Holy Spirit calls us and if we respond we come into his presence.  Jesus always gives us space…Love is not coercive, it is patient it is kind, it is forbearing.
In 'Living His Story' we are encouraged to be Christlike and be ready to introduce others to Jesus….to the Gospel story...to enter into His story and to become part of it….to share his presence in our life.
Heavenly Father, we thank you that you sent your Son our Lord Jesus Christ into the world to knock on our door to meet us.  And we thank you that in your love you have given us free choice to respond.  We pray that when he knocks on the door of all of his children, they will have the courage to open that door and to let Him in and to enter in his presence.   Amen
Revd John Hillier