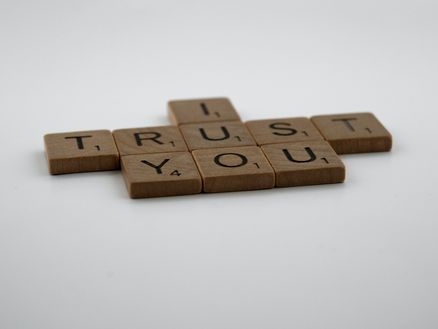 "Our forebears trusted in You.
They trusted and You delivered them.
They cried out to You and were delivered.
They put their trust in You and were not confounded. "
Psalm 22 vs. 4+5
Psalm 22 is the appointed psalm for today in our Morning prayer.  It is a psalm of David written when he was in despair during the many challenges he faced in his life. It is also said to be the Psalm of the Cross – a prophecy of Christ's sufferings.
I picked out verses 4 + 5 because they speak of always trusting God to lead us out of difficulties.  It states that David's forebears i.e. Abraham , Moses and many others trusted in God's ability to deliver them in really difficult, life changing circumstances.
Many times when I read Bible passages I am drawn by words in the passage that have been the subject of a hymn or song, which then will stay in my head for many days. These verses in this psalm, which is itself a song, shouted the word TRUST to me and the lovely hymn  'Father I place into your hands' has stayed with me for many days :--
Father I place into Your hands
The things I cannot do.
Father I place into Your hands,
The times that I've been through.
Father I place into Your hands the way that I should go.
For I know I always can trust you.
There are 3 more verses all equally beautiful and moving (and several lovely versions on YouTube)
We have all been through many difficult times over the last year. All generations experiencing the difficulties of this pandemic in many different ways. Just as Moses trusted God to bring the Israelites out of slavery to their premised land, so we must trust God to bring us out of this pandemic. Already our prayers and trust in God has been answered. Scientists have worked tirelessly to produce vaccines that will protect us. Nurses, doctors and countless volunteers are working so hard to administer the vaccines to us. We must continue to trust our God to bring us through this time to brighter times , when we will be able to meet our families and friends again and be able to HUG and show our love for one another.
Jesus, you've given everything,  including your life,  for us. How could we not trust You, who has given us so much. Show us what it means to have trust in You. Grow in our lives. Amen
Anne Rigby, Pastoral ALM at St John's