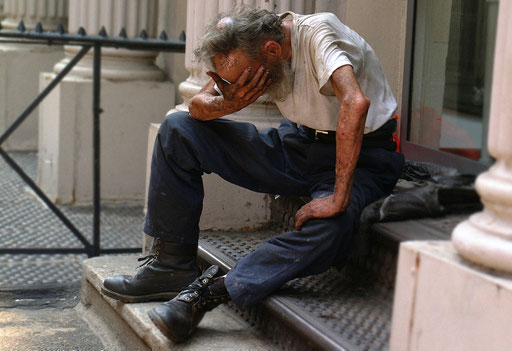 The Power of Lament
"Consider, and call for the mourning-women to come;
   send for the skilled women to come;
let them quickly raise a dirge over us,
   so that our eyes may run down with tears,
   and our eyelids flow with water."
Jeremiah 9.17-18
Reading: Jeremiah 9.12-24
It's possibly a very 'British' thing, but sometimes it feels like complaint is rooted in our national psyche; whether at the bus stop, in the doctor's waiting room, or on the phone to a friend, it is far more likely that we complain, moan and grumble, than that we share stories of joy and success.
And yet, when it comes to matters of profound grief, we hold back.  We are happy to moan about the weather or the price of a coffee, but real grieving has become a deeply personal and private affair, and there is a pressure in society to 'get over' our suffering as quickly as possible. As Old Testament Scholar Walter Bruggeman argues, 'as children of the enlightenment, we have censored and selected around the voice of darkness and disorientation, seeking to go from strength to strength'.
But the bible shows us, time and time again, the powerful need for lament in times of grief. In today's reading, from Jeremiah, the Lord of hosts calls for the mourning-women to come. Those skilled women whose whole purpose it is to raise voice to the pain and suffering of the people, and who, through their words, will help the people cry. Lament was needed, tears were needed, to help the people in their grief.
People have written laments for thousands of years.   And this tradition has been passed down in a variety of ways – from poetry to Blues, in countries across Africa, Asia and the Americas. Often, those who lamented most powerfully, were those whose lives were closest to the edge; those who were facing exile or war, those whose way of life was threatened by famine, or sickness, or enforced servitude. In the bible, we particularly  find laments in the book of Psalms, in psalms such as 22 or 142 . These psalms allow people to express the real pain they are in, they voice the 'Why God?' and the 'Where are you God?' that sometimes we are afraid to say out loud. Psalms of lament  are not just poems of complaint, but intimate conversations of trust in God.   They keep the conversation going with God, even in the deepest darkness and suffering. Lamenting is never the same as grumbling, instead it allows the outpouring of grief
Here, in the 21st Century, lament doesn't come easy to us. Maybe it's because we think lamenting equates to admitting we're lost, overwhelmed, out of control, or failing. But this pandemic has left us with a very real need of lament. With so much grief, locked in our homes, and unable to meet in our communities, we too need the mourning-women to come and lead us in our tears.
Perhaps too, in this time, we are called to write our own dirges, our own laments, to help us share our suffering with God. I found one powerful example of this written by Revd Kenneth Howcroft, which you can read on the Methodist Church website, here. 
Revd Chris Campbell