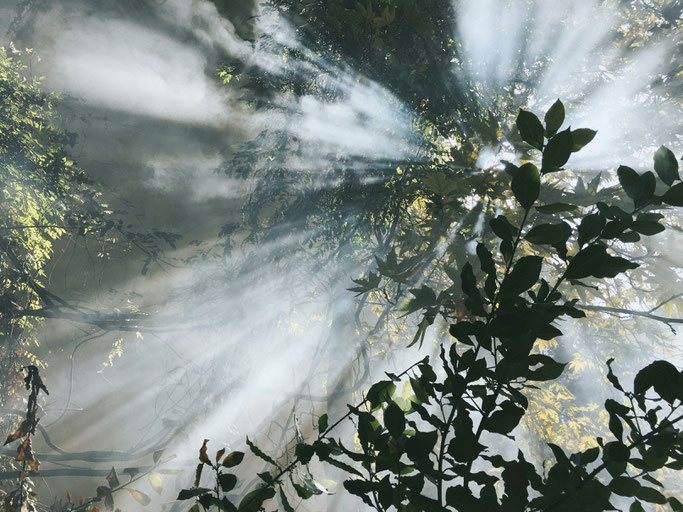 "I am the light of the world;
he who follows Me shall not walk in the darkness,
but shall have the light of life."
John 8:12
Reading: John 8.12-30
Today's reading at Morning Prayer is from the Gospel of John and includes one of Jesus' most well known 'I am' sayings; I am the light of the world. I think, of all those sayings, it is the one that speaks most closely to our hearts. Because, deep down, we are all still a little bit afraid of the dark. 
But the Pharisees eyes are closed; they cannot see the light of Jesus, they wonder how he dare say such a thing. They question with what authority he speaks and do not understand that Jesus speaks about both himself and his Father in heaven.
I think, at times, we can all be a little like the Pharisees. We desperately desire the light, we want to escape from the darkness of confusion, conflict and death. But then we look the wrong way and we miss glimmers of light flickering right in front of us. We think, maybe, that light can only be found in certain sorts of people and certain sorts of places... Or we are so lost in the dark, that we don't believe light will ever shine again.
Malcolm Guite's sonnet on this I Am saying, reminds us of how we can see the Light of Christ in all sorts of little things, if we only have a mind to look.
I Am the Light of the World, Sonnet by Malcolm Guite
"I see your world in light that shines behind me,
Lit by a sun whose rays I cannot see,
The smallest gleam of light still seems to find me
Or find the child who's hiding deep inside me.
I see your light reflected in the water,
Or kindled suddenly in someone's eyes,
It shimmers through the living leaves of summer,
Or spills from silver veins in leaden skies,
It gathers in the candles at our vespers
It concentrates in tiny drops of dew
At times it sings for joy, at times it whispers,
But all the time it calls me back to you.
I follow you upstream through this dark night
My saviour, source, and spring, my life and light."
And so, on a day that looks to be rather grey and wet, I wonder where you will see Jesus' light spilling out.

As we consider how we might see Chris's light, the prayer of St Benedict seems appropriate for today.
"O gracious and Holy Father, give us wisdom to perceive you, diligence to seek you, patience to wait for you, eyes to behold you, a heart to meditate upon you, and a life to proclaim you; through the power of the Spirit of Jesus Christ our Lord. Amen"