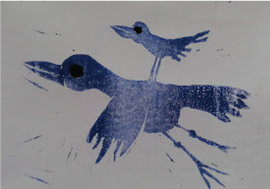 John 8:31-47   (V32 - The Truth will set you free)
Today our reading from Morning Prayer records a dispute over whose children Jesus' opponents are. 
He has been followed now for some time by the 'crowd', and a little earlier John records that many had turned away because of what they saw as our Lord's difficult teaching.  But still some of the crowd follow, some perhaps with different intentions.  Jesus recognizes their reasons including their desire to trick and to kill him.  He can see that they have heard but not understood…….they have listened but the truth is not in them….they may in some way believe what he says at first sight but their roots are shallow….they have not learnt to believe in him.   
To believe in Him is to have a total commitment.   Jesus recognizes that they are not committed…….and so he tells them  "If you really hold to my teaching, then you are my true disciples and you will know the truth, and the truth will set you free."    This puzzled them and they answered him, "We are Abraham'sdescendants and have never been slaves of anyone and so how can you say that we shall be set free?"  And Jesus replied, "Very truly I tell you, everyone who sins is a slave to sin and a slave has no permanent place in the family, but a son (or daughter) belongs to it forever. So if the Son sets you free, you will be free indeed.  I know that you are Abraham's descendants. yet you are looking for a way to kill me, because you have no room for my word.  I am telling you what I have seen in the Father's presence, and you are doing what you have heard from your father."    But Jesus knows that the father to whom they refer is not His Father whether they believe it or not.  Their father, Jesus tells them is in fact the Devil, the father of lies.
And so this passage presents a clear picture and a clear choice.  There are those who listen yet do not understand, who follow but hold back in opening themselves to the truth…...they remain committed to their own ways with which they are comfortable…..they want to remain in their comfort zone and to hang on to a tradition in which their interpretation is flawed.  They are not ready to commit themselves. They remain slaves to sin….but for those who are prepared to make that new commitment, the Truth will set them free.
Paul Writes in his letter to the church in Rome "Knowing the Truth will set one at liberty—free from sin, free from condemnation, and free from death.  Luke records that Jesus came to proclaim liberty to the captives, and Peter challenges his readers to "Live as people who are free, not using your freedom as a cover-up for evil, but living as servants of God" 
On our journey through Lent, where do we stand?
Rev. John Hillier