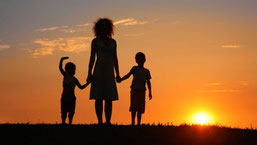 "Strength and dignity are her clothing, and she laughs at the time to come. She opens her mouth with wisdom, and the teaching of kindness is on her tongue. She looks well to the ways of her household and does not eat the bread of idleness." Proverbs 31:25-28
This is a wonderful image portrayed in Proverbs and with Mothering Sunday being this weekend what a lovely image to evoke.
Mothering Sunday is a day we've dedicated to acknowledging, thanking, and celebrating mothers and as Christians, we have all the more reason to be appreciative.
We understand that God himself is the author of motherhood. In the beginning, when God said, "Let us make humankind in our own image," he followed it up with, "Be fruitful and multiply." and in those words he created motherhood. Having mums was his idea.
The Bible calls this a blessing, just before God says, "Be fruitful and multiply," notice how he introduces this statement by saying "And God blessed them," the command to be fruitful and multiply, and with it the institution of motherhood, is described as a blessing by God.
James tells us "Every good gift and every perfect gift comes from our Father above." and so when we give thanks for mums, we express thanks first and foremost to God himself. Motherhood was his idea, it's a blessing from God. This is something many of us know from our own experience. Many of us have personally experienced the blessings of motherhood, whether that's through your own mum, or maybe you've had the privilege of being a mum yourself, and of course we add here, grandmothers, and great-grandmothers.
Mums are an expression of God's grace towards humanity.
Growing up my Nana had a plaque hanging in her kitchen saying 'God could not be everywhere so he created mothers.' Well we know God is everywhere and always with us but growing up I always interpreted this as meaning mothers were God's extra pair of hands and this was wonderful to me. I had around me so many mothers. My own Mother, my Nana, my Aunties (who were also mother's) all helping God with the children, how totally amazing! These women are all definitely blessings from God and through their love and nurture we can feel God's love and comfort.
"As one whom his mother comforts, so I will comfort you; you shall be comforted in Jerusalem." – Isaiah 66:13

So, this weekend as we thank our Mothers for everything they do, and have done, for us lets also thank God for the wonderful blessings he has bestowed upon the earth.
Sian Binley – Pioneer ALM