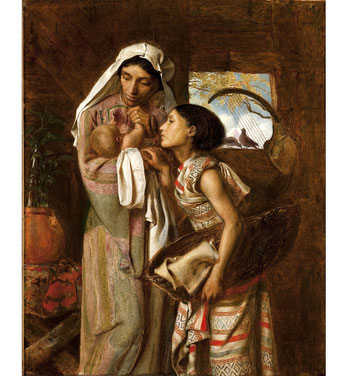 The Mother of Moses (Simeon Solomon)
(Delaware Art Museum)
Exodus 2.1-10: Letting Go and Lifting Up
When Moses' mother, Jochebed, coated the papyrus basket with tar, placed her son in it and sent him down the River Nile, she had no idea what would happen. Would someone find him? And if so, who? Would it be someone who would care for him as she had? Or would it be someone who wished him harm - one of Pharaoh's people who would carry out the orders to kill the child?
Further down river, Pharaoh's daughter also faces a decision. Having discovered the basket caught amongst the reeds and sent her servant to retrieve it, she must determine what to do. Surprisingly, despite discovering the Hebrew baby inside, she chose to have pity; to lift up the baby from the river and to look after his needs.
Both women had to make a choice which was grounded in trust. One chooses to let go of the most precious thing she knew, trusting in God to keep it safe for her. The other, even in the face of entrenched prejudice and going against what she knows are her father's wishes, chooses to lift up this child in need.
Letting go of someone you love and entrusting them to someone else is possibly one of the hardest things any of us has to do. During this pandemic, we have had to do that more than usual, whether it is entrusting an elderly parent to a care home we haven't been able to visit in person; or taking a sick relative to the hospital, knowing that we cannot visit; or watching a newly adult child leave to go to university and/or a job in a different city.
Entrusting always carries a risk, but knowing when to let go is a fundamental part of not just caring for people we love, but also projects and activities we love. And, as the experience of Moses' family goes to show, letting go can lead to new opportunities. Moses' future as a leader of his people, was started the day his Mother let go and trusted him into God's care.
Often, as we let go of one thing, we find we are able to move forward and, in doing so, we discover space in our lives for new opportunities. And so, as we continue our journey through Lent, perhaps now is a good time to consider what we each need to let go of.
• Are there things in your life today that you are holding on to?
• Could they instead be entrusted to someone else?
• As you let go of that one thing, is there something else you are being called to lift up?
Rev Chris Campbell