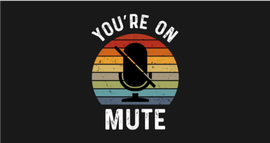 You're on Mute
Apparently the most used business phrase of 2020, 'you're on mute' encapsulates for many of us the strangeness of the past year, coming to terms with this new way of working, socialising and meeting; sitting in front of our screens talking away to ourselves, unaware that nobody can hear us. 
We can choose (both on and off-screen) when to speak and when to remain silent. Ecclesiastes reminds us that there is a time for both. Sometimes we are compelled as Christians to unmute ourselves. Too often we are told or tell ourselves: 'Ignore it and it will go away or 'turn a blind eye.' We can speak out for change, praise the good, condemn the shocking. As Christians it is our duty to stand up against injustice, to be Jesus's hands on earth, to do for 'the least of these' what we would do for Him.
We can peacefully protest with others, we can speak out with righteous anger, we can share God's truth, we can spread love, we can have compassion, we can donate to causes, we can contact our politicians. We can use our words to 'speak up for those who cannot speak for themselves… defend the rights of the poor and needy.' (Proverbs 31). Gifted with God's spirit and informed by his word, we are equipped to speak out against oppression, defend the marginalised and live as peacemakers. To say nothing would be wrong. To do nothing should be impossible. 
Let us not be silent in our communities and let us not be silent in our prayers. 
Lord, you know the pain that is in so many hearts right now, a pain that for many has been present for quite some time. We pray for all those in our world who are suffering from injustice because of their race, colour, gender or religion; for those who are hounded for speaking the inconvenient truth. Give us the words to comfort, love, share, calm, relieve and reassure. Amen.
Lucy Holden