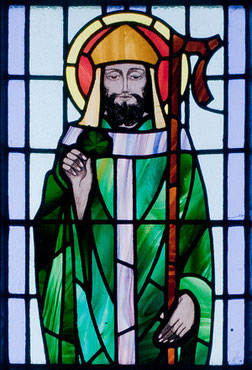 As anyone with Irish heritage will know, today, March 17th, is St Patrick's Day.
His story starts, as all good stories start, with being kidnapped by pirates at the age of 16. Born in Carlisle, he arrived in Ireland on a slave ship, where he was then forced to work as a shepherd. But eventually he managed to escape, travelling over 200 miles to a seaport, and eventually managing to return home to his family. 
Although he had a nominal Christian faith as a young man, it was the trials and adventures he faced both in captivity and his journey home, that really brought him to faith and a deep reliance on God. Once back in Britain, he realised he was called to be a priest, and began to train. Eventually did become a priest, and then a bishop; returning to Ireland to devote himself to both evangelism and reconciliation. It was through his pioneering work that the foundations were laid for the Christian Church in Ireland and he is remembered for the depth of his trust in God, despite all the difficulties he faced.
In terms of his prayers and writings, St Patrick is possibly best known for his 'breastplate' prayer; a lorica prayer which invokes divine for protection, in the manner of a warrior putting on armour. This beautiful prayer of protection has upheld many in times of trouble, and it remains as powerful today as it was when it was written, remind each of us that however difficult things may feel, through the strength of heaven, we can arise.
There are many slightly different translations of the prayer, including shorter and longer versions, but I have included one below, which you might like to prayer with today:
I arise today
Through the strength of heaven;
Light of the sun,
Splendour of fire,
Speed of lightning,
Swiftness of the wind,
Depth of the sea,
Stability of the earth,
Firmness of the rock.
I arise today
Through God's strength to pilot me;
God's might to uphold me,
God's wisdom to guide me,
God's eye to look before me,
God's ear to hear me,
God's word to speak for me,
God's hand to guard me,
God's way to lie before me,
God's shield to protect me,
God's hosts to save me
Afar and anear,
Alone or in a multitude.
Christ shield me today
Against wounding
Christ with me, Christ before me, Christ behind me,
Christ in me, Christ beneath me, Christ above me,
Christ on my right, Christ on my left,
Christ when I lie down, Christ when I sit down,
Christ in the heart of everyone who thinks of me,
Christ in the mouth of everyone who speaks of me,
Christ in the eye that sees me,
Christ in the ear that hears me.
I arise today
Through the mighty strength
Of the Lord of creation.
There have been many settings of St Patrick's breastplate, one of the most powerful modern versions is from Shaun Davey's "The Pilgrim" , and I've included a video of it below, sung here by Rita Connolly.