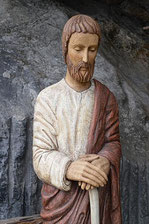 Today is marked in the Lectionary as the festival of Joseph of Nazareth. Joseph passes through the Gospel without us hearing him utter a single word. But God had selected him for a special mission: to look after two of the greatest treasures who have ever been on earth – Jesus and Mary.

Joseph was a humble, righteous and caring man. Righteous as in following closely the Jewish laws of the time. We hear of him in the Gospel caring so much for Mary that when he finds out she is pregnant he decides to divorce her quietly rather than making it publicly known which would result in her being stoned. "But after he had considered this," (that is, divorcing Mary), "an angel of the Lord appeared to him in a dream and said, 'Joseph son of David, do not be afraid to take Mary home as your wife.'" (Matthew 1:20, RSV)

Throughout his life with Mary and Jesus Joseph was guided by the angels through dreams and, open and receptive to the heavenly realm, had learned how to tell ordinary dreams from the dreams from the angels. When Joseph experienced a dream from the angels, he acted on it. That's the truth we need to understand about spiritual discernment. It's of no use unless we act on it.

Do you notice that Joseph didn't say, "I'm scared." Rather, the angel said, "Do not be afraid." It didn't start with Joseph confessing his weakness to God. It started with God knowing Joseph. It starts with God revealing Joseph's heart to Joseph, whether Joseph wanted to talk about it or not. God knows us. God knows our heart. 

Joseph was a brave man. The angels told him who the child would be "She will give birth to a son, and you are to give him the name Jesus, because he will save his people from their sins." (Matthew 1:21, RSV) Luke, in his gospel, wrote about Mary's vision. Mary knew who her son would be. Matthew fills in on an important detail: Joseph knew, too!

Joseph isn't a flat, lifeless character. He's not an incidental person in the story. He's not just a prop. God chose him and said, "I'm going to entrust you with a very important job, and I'm going to help you overcome incredible forces that will work against you." Joseph had purpose, meaning, and he understood it. He is a worthy example for us, he demonstrated to us what it means to follow God, to be righteous and obedient and courageous.

Maybe you don't feel very righteous, or obedient, or courageous. Maybe you haven't been all that perceptive to spiritual wisdom presented in dreams. Maybe you don't have a sense that you're here for some grand purpose, or that you have a mission. 

Well, I have good news. We are all destined for greatness! God is in the habit of taking broken things and making them whole. He heals. He strengthens. He restores. He gives meaning. He gives purpose. He gives vision. We too have our part to play in God's story.
Sian Binley - Pioneer ALM