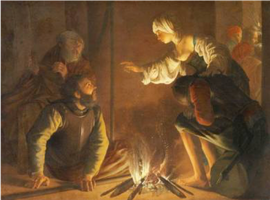 Purpose-driven Evangelist
What on earth am I here for? Welcome to the tenth and final reflection in this series on 'purpose'! 
Mark's purpose in writing his Gospel is revealed in the book's structure. The first half of the book is focused on the identity of Jesus as the Son of God and Messiah. The second half is focused on Jesus' mission to die as an atoning sacrifice for sin. Mark's object in using structure is twofold: to show that Jesus' crucifixion fulfils (rather than negates) his Messiahship; and to show that Jesus' faithfulness to his mission is the model for all discipleship - following Christ means denying ourselves, taking up our cross, and following Jesus (Mk 8.34).
Once we know this is Mark's purpose, the way Peter is portrayed suddenly makes sense. We discover that Peter's confession that Jesus is the Messiah (Mk 8.29) is the climactic centre point of the whole book. We realise too that, when Peter rebukes Jesus for his insistence that the Messiah is to suffer and die, Mark's recording of Jesus' counter-rebuke, "Get behind me, Satan!" (Mk 8.33), is Mark's way of telling his readers that it is only through the suffering and death of the Messiah that the salvation of humankind can be accomplished.
Our attention this week is drawn towards the events of Palm Sunday - the beginning of the end of Jesus' earthly ministry. In the gospel reading, cited above, we find Mark showing that Peter at last understands that Jesus has to suffer, and that he too may need to suffer. And yet, within the very same chapter, Mark shows how divorced Peter's understanding is from his actions. In a vivid scene by a firepit, he recounts Peter doing all he can to escape such suffering by denying three times that he was one of Jesus' associates.
Mark achieves his purpose. In doing so, he shows how hard it is for people – even large-hearted and spontaneous people like Peter – to acknowledge Jesus as Messiah and Lord and to be faithful to him. For me this is an example of the raw honesty of the gospel writers. Although they are evangelists, keen to persuade their readers to follow Christ, they avoid any attempt to make it sound easy. That in itself if good news, for we know from our own lives how hard faithful discipleship can be. In his characterization of Peter, Mark offers hope for fallible and conflicted people like ourselves. 
Peter S Heslam, Assistant Priest