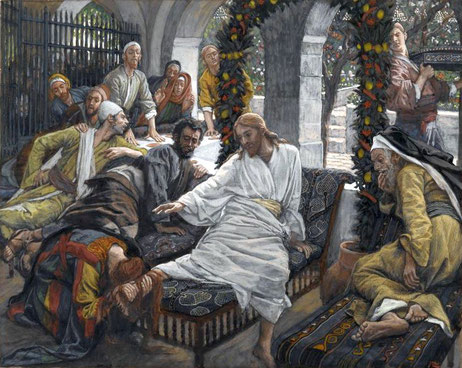 Reading: John 12.1-11
This morning, the newspapers are full of the story that our Prime Minister, Boris Johnson, yesterday told a video call of Conservative backbenchers: "The reason we have the vaccine success is because of capitalism, because of greed, my friends." It is a headline that has caused shock and sadness, and to me it grossly misses the huge generosity of scientists, NHS staff and volunteers who have given of themselves to ensure the vaccine rollout. It also brings into sharp light the concerns we have about the way the vaccine is shared across the globe. 
But in distinct contrast to Mr Johnson's celebration of greed, our gospel reading this morning is one which lauds self-giving generosity. In it, we have the beautiful story of Mary of Bethany, who takes a pound of costly perfume, and with it, anoints Jesus' feet. It is a moment of such great love, and prophecy, that it appears in all four gospels, and in the Mark and Matthew tellings we hear the particular entreaty from Jesus that what the woman has done should be told throughout the world.
It is worth remembering that despite this appeal, it seems the evangelists did have trouble remembering the exact details of the event. In Matthew and Mark they are in the house of Simon the Leper, the woman is nameless, and the perfume is poured on Jesus' head. In Luke, they are at Simon the Pharisees' house, the woman (again unnamed) has led a sinful life and the perfume is poured on his feet, along with the intimate act of washing Jesus' feet with her tears, and drying them with her hair. In John, they are at the house of Mary, Martha and Lazarus, and it is Mary who pours the perfume on Jesus' feet. 
In common with all the readings is the shock of the onlookers. This woman has done a beautiful and generous thing. She, perhaps lone amongst all at the meal, realises who Jesus is and what his fate would be. She alone responds with an out-pouring of love; eclipsed only by that out-pouring of love which will soon happen upon the cross. She doesn't just share with Jesus this hugely costly gift; she is also willing to offer herself fully, generously offering everything she has and everything she is, in his service.
It makes me wonder how often we respond to Jesus in an extravagant way. How prepared are we to  ignore the judgement, the disapproving looks and accusing fingers of those around us, and truly let go and show Christ the thankful love he so richly deserves. 
Today I wonder, are we (like Mary of Bethany) ready to love and serve God with a generosity that would scandalise those around us? 
Revd Chris Campbell