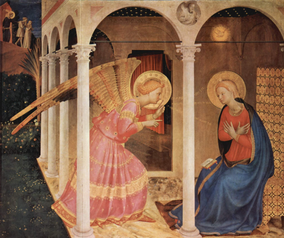 A fresco by Fra Angelico from St. Marks in Venice (Wikipedia)
Today is a very special day in the Church Calendar. We celebrate and marvel at the Feast of the Annunciation. It is Luke who so often brings women into the Gospel narrative, who records the details. We can imagine that in composing this record that he would have sat down with Mary the mother of Jesus some thirty years after the crucifixion and listened carefully to her vivid recollections of that day. The church calendar places this nine months before Christmas. In contrast the only other record is from Matthew who records Joseph's story. 
Luke's narrative is well known. The angel Gabriel appears without notice to Mary who was pledged to be married to Joseph. 
Mary was understandably troubled by the Angel's appearance but was comforted and assured by his message. Mary had found favour with God her maker. This was indeed an announcement… an annunciation. In God's love she responded by freely accepting the invitation… I am the Lord's servant… may it be as you have said. 
We know from Matthew's gospel account that when Joseph realised that Mary was pregnant he did not want to expose her to public disgrace and was mindful of divorcing her. However the angel of the Lord appeared to him in a dream and he was placated and took Mary as his wife. There must have been some wagging tongues of criticism. 
However any criticism would have paled into total insignificance by the events that followed in Nazareth as the power of the Holy Spirit was brought to fruition. 
But to return to today, Luke records Mary's immediate visit to her cousin Elizabeth who is to bear John the Baptist. We have wonderful words in Luke 1:42-45 and Mary's Response in verses 46-55..the Magnificat. 
Mary's example is a lesson for us all. She listens to God's word brought to her by the Angel of God and when she understands the amazing message, without hesitation accepts his message… in humility and wonder. 
The Collect for today: We beseech thee, O Lord, pour thy grace into our hearts; that, as we have known the incarnation of thy Son Jesus Christ by the message of an angel, so by his cross and passion we may be brought unto the glory of his resurrection; through the same Jesus Christ our Lord. Amen.
Rev. John Hillier