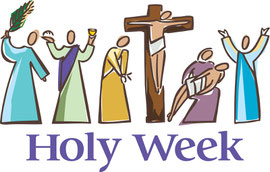 Monday in Holy Week
Luke 22: 39-46 : Jesus' prayer on the Mount of Olives  
(Mt 26:36–46; Mk 14:32–42; Jn18:1)
39 He came out and went, as was his custom, to the Mount of Olives; and the disciples followed him. 40 When he reached the place, he said to them, "Pray that you may not come into the time of trial." 41 Then he withdrew from them about a stone's throw, knelt down, and prayed, 42 "Father, if you are willing, remove this cup from me; yet, not my will but yours be done." 43 Then an angel from heaven appeared to him and gave him strength. 44 In his anguish he prayed more earnestly, and his sweat became like great drops of blood falling down on the ground. 45 When he got up from prayer, he came to the disciples and found them sleeping because of grief, 46 and he said to them, "Why are you sleeping? Get up and pray that you may not come intothe time of trial."
Following the events of the last supper Luke turns his narrative to focus solely upon Jesus. This moment is poignant. Up to this point the story of Jesus as told by Luke has focused either on Jesus' interaction with others or upon his teachings. In this moment all is stripped away, it is a picture of Jesus beyond the veil, behind the scenes.
It is also during Jesus' moment of greatest weakness that Luke decides to do this, almost as if by doing this Luke desires to emphasise the vulnerability of Jesus at this point in his earthly mission. The vulnerability and weakness that we find in this passage reflects how deeply the son of God chose to take on our humanity.  Jesus the man, the true image of the incarnation, here reflects the totality of human nature. John of the Damascus emphasises the importance of this, stating that it was as the Son of Man AND the Son of God that Jesus chooses to drink the cup.
Ultimately strength is found through Jesus' subordination to the divine plan of the Father. We see within this passage what we have seen throughout the entirety of the gospel, the will of the Son aligning with the will of the Father. Gregory of Nazianzus reminds us that even in the moments of pain, of anguish, of vulnerability and weakness Jesus' desire remains to be doing the will of the Father in heaven. Jesus knew what was at stake, he knew the path of love.                                
The moment that this passage captures shows us the strength that can be found in weakness, when we follow our Lord in stepping out ahead of our weaknesses and push on towards the goal of our life, to do the will of the Father. We do not have the same path as Jesus, his was a unique mission on earth. But we do have the same calling, to declare the coming of the kingdom of heaven, to carry out the will of the Father and to subject ourselves to that will even when the path is hard. If we are able to do that, then our weakness becomes our strength.
Tom Owen, Ordinand