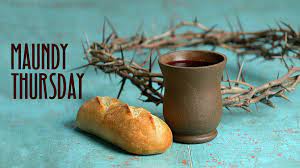 Maundy Thursday
John 13:1-17, 31-35, 
Luke 22:14-23; 
c.f. Matthew 3:13-17;
Philippians 2:5-11.
"I give you a new commandment, that you love one another. Just as I have loved you, you also should loveone another." - John 13:34 (NRSV)
There are many titles we can use to describe our Saviour, Jesus Christ. To name a few, we may call Him Lord; the Messiah; Teacher; Healer; Emmanuel, or God-with-us; Cornerstone; the Son of Man; the Son of God; Servant; King; and, of course, the Servant King.
All of these titles are fitting and correct, and some of these are actively used by Jesus (or those in His presence) in the Gospels. But perhaps one of the most striking titles – which is most fitting for today especially – is how Jesus is the Servant King.
'The Servant King' is the title of one of my favourite worship songs; upon my request, it was sung at my Confirmation in 2005. Jesus Christ is the Servant King – the King who came to be Servant of all – and we vividly see and experience this on Maundy Thursday.
Maundy Thursday is the day when Jesus Christ is betrayed into the hands of sinners – the betrayal which leads on to the remainder of His passion, His death, and His resurrection. He is preparing for this – He is the Paschal Lamb, crucified and exalted at the Passover.
On Maundy Thursday, we commemorate two of the most humble yet powerful actions of Jesus Christ , His washing of the disciples' feet, and His institution of the Eucharist at the Last Supper. Jesus, the King of Glory, stoops down low to wash His disciples' feet – a scene in which we see the Son of God serving all, in the most humble form. This remarkable humility is what St Paul speaks of in his Letter to the Philippians – Christ did not regard His divine identity as something to be exploited, but took the form of a servant and humbled Himself. Indeed, Peter is initially shocked when Christ does this – shocked in a way not dissimilar to John the Baptist, when Jesus asks to be baptised by him – but, when Christ explains why He is doing this, the Servant King continues with glorious authority.
On the same day, Jesus celebrates the Passover with His friends – and institutes the Eucharist. Once again, we see the Servant King's pure love and self-giving, Himself bringing us back to God. Every time we meet for Holy Communion – be it in Church, or at home by making an Act of Spiritual Communion – we participate in the one perfect Sacrifice of the Eucharist, as first instituted by Jesus Christ that first Maundy Thursday, in remembrance of Him and in unity with Him.
Another favourite hymn of mine is 'Brother, Sister, Let Me Serve You'. Whatever context we are in, I believe this is something we can always do, wherever we are. How best might you today imitate the love and example of Jesus Christ, the Servant King, to those around us?
Will Lyon Tupman – Ordinand