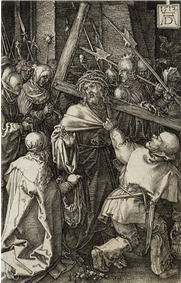 Bearing of the Cross (Albrecht Dürer) (Museum of Fine Arts, Houston) 
Reflection for Good Friday
Isaiah 52.13-53.13, the Suffering Servant
'Surely he has borne our infirmities and carried our diseases; yet we
accounted him stricken, struck down by God, and afflicted. But he was
wounded for our transgressions...
Upon him was the punishment that made us whole, and by his bruises weare healed.' (Isaiah 53.4-5)
Today we come to the heart of Holy Week, to the action of God, in his
Beloved Son Jesus Christ, for the salvation of our world, and indeed for the reconciliation of the whole cosmos. St John attempts to fathom the mystery, that the eternal Word, through whom God created the world, now flesh in Jesus Christ, actually dies at the heart of sinful humanity. Yes, we believe, as Jurgen Moltmann put it in his book, in a 'crucified God'. Today we watch and wait, in horror and grief, as the Lord of life is tortured and crucified, a most cruel and terrible death... hoping, against hope, for resurrection, that (as John 1 put it) 'the light shines in the darkness and the darkness does not overcome it.' And, for many Christians, our reflections turn not only to the Passion Narratives in the four Gospels, but to the prophet words of the Book of Isaiah, the final Servant Song, this time dwelling on his suffering.
It is worth noting that originally, for the Jewish people – before Christ – this text was taken as relating either to an individual, destined to come, or for the fate of the Jewish people as a whole. Nonetheless the New Testament rightly applies it to the suffering and death of Jesus Christ, 'for us and for our salvation'.
However we understand the theology of Jesus' death – what theologians term the 'atonement' or the 'saving work of Christ on the cross' – it is clear that Jesus dies for his people, and so, mysteriously reconciles them back to God. Various theories of atonement are put forward in Christian theology: principally the Cross as sacrifice (as is evident in the Isaiah text above), the Cross as victory, the Cross as means of forgiveness of sins, and the Cross as moral example. But what matters today, beyond all doctrine, is simply that we 'stay with him', watch and wait, and pray, in sadness and devotion to our Lord; perhaps also in solidarity with all who suffer today, especially victims of religious persecution, prisoners of conscience, and victims of oppression. May we be strengthened in faith and devotion to our Lord, and renewed by his saving death and passion.
A prayer written by young people in Kenya:
'Blessed be Jesus who died to save us. Blessed be Jesus, who had compassion on us. Blessed be Jesus,who suffered loneliness, rejection and pain, for our sakes. Blessed be Jesus, through whose cross I am forgiven. Lord Jesus, deepen my understanding of your suffering and death. Amen'
Rev James Shakespeare 
*Image: Albrecht Dürer, Public Domain via Wikimedia Commons