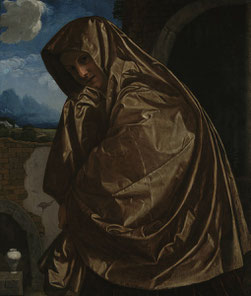 St Mary Magdalene at the Sepulchre
(Giovanni Girolamo Savoldo)
(Getty Center)
Reading: John 20.1-18:
"Early on the first day of the week, while it was still dark, Mary Magdalene came to the tomb"
 John 20.1
During the periods of lockdown over the last year, I have got even more used to rising early. Along with many parents of school-aged children, home- schooling during the pandemic, I have struggled to find times for peaceful working without their (smiling, enthusiastic, but sometimes frustrating) interruptions. And so I have often found myself rising, whilst it is still dark, to begin the day.
Perhaps this is why, when I reread this very familiar passage today, I was drawn to that first line and how Mary came to the tomb in darkness. In Matthew and Luke, the women come at dawn. In Mark it is just after sunrise. Only in John does the approach to the tomb happen in darkness. Likewise, only in John does Mary Magdalene come alone.
Maybe, like many of us lately, Mary had been unable to sleep. Maybe, after a restless night she had finally given up, and left the bed in which she had been tossing and turning, to come to the tomb. Maybe she needed to be there first, before anyone else, to spend time alone with her sorrow. Or maybe, like my early rising, she simply knew there was much to do on that first day of a new week and she wanted to make a start on getting the jobs done.
I imagine it remains dark as Mary makes her discovery that the tomb is empty, and as she hurries off to find Simon Peter. It remains dark too as Simon Peter and the disciple who Jesus loved, make their own race to the place and discover the strips of cloth and the linen. And it remains dark as those two disciples return to where they are staying; apparently seeing and believing but still not understanding that Jesus had risen.
I imagine then that the light only begins to dawn when, finally, the man who Mary had assumed was the gardener calls her name: 'Mary'. As Jesus says Mary's name, her eyes are opened and the light comes rushing in. Jesus who  was, and is, and always will be the light shining in the darkness, was there before her.
There have been times during this pandemic when the world has seemed very dark, and during winter I remember the countless days that seemed to remain a foggy grey; as if life itself had been drained from the world. But the Good News of Easter is that Christ, the Light of the World, has overcome the darkness. Even when we, like those first disciples, are filled with sorrow and confusion, we can take comfort that Christ calls our names too and that our risen Lord has the power to cast out all our fear and to renew our sense of hope and calling.
With a renewed sense of optimism, Mary was commissioned to go to the others and tell them the good news that she had heard. This Easter, we too are called to live as people of the light and to share that good news that the darkness can never overcome the light. Alleluia.
Rev Chris Campbell