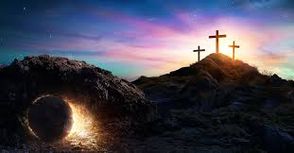 Matthew 27:57-end; c.f. John 19:38-end; Matthew 28; 
John 11:25-26.
"Crucified, dead and buried. He descended into Hell; the third day He rose again from the dead; He ascended into Heaven." - The Apostles' Creed.
"I am the resurrection and the life. Those who believe in me, even though
they die, will live, and everyone who lives and believes in me will never die." - Jesus, in John 11:25-26 (NRSV)
The Easter Triduum – that is, Maundy Thursday, Good Friday, and the Easter Vigil with Easter Day – is, along with Christmas, the most important time of the Liturgical Year. It tells the story of Jesus Christ's passion, death and resurrection; His redemption of humanity, and His reconciling of us with God, Himself being God with us. But within the Easter Triduum, there is another very important day, which is often less thought about – Holy Saturday. Is there a tendency to neglect Holy Saturday? What exactly is Holy Saturday?
Holy Saturday is the full and complete day in which Jesus Christ was dead. St Matthew's Gospel details the commissioning of the soldiers to secure the tomb, making it as secure as possible so that the body of Christ could not be stolen. Whether these were Roman soldiers or the Temple Guard, they would have very strictly enforced this; neither group would have wanted any more drama to unfold about the Messiah. And yet, on Easter Day, the tomb was indeed found to be empty – as discovered by the women, the other disciples, and the shocked guards who could only watch in amazement as an angel rolled the stone away. The risen Christ, who would later pass through locked doors, had passed through the tomb – and, in accordance with the Scriptures, had risen from the dead.
But what actually happened beforehand, on that first Holy Saturday? On Holy Saturday comes the Harrowing of Hell, the vital hinge-point between Good Friday and Easter Sunday. Jesus Christ Himself rescues His people from Hell – powerfully lifting them out, as many icons and other artistic representations depict. In the Harrowing of Hell, Jesus defeats the power of death – and even death itself –leading His people on to share in His resurrection.
It had to be Jesus Christ who did this. Only God has the power to defeat death; Jesus, being the second Person of the Trinity, is fully divine – so has the power to do this. Jesus, being Incarnate and fully human, can effect this for us. As baptised siblings in Christ, we are baptised into His death; and likewise, we are also baptised into His resurrection.
Lord Jesus, we thank you for your blessed passion, death and resurrection; your loving self-giving to free us from our sins. As your siblings in the world today, we pray that we may always seek to love and serve you, the Servant King, and all people who we meet in our thoughts, words and deeds, proclaiming your Good News throughout our lives. Amen.
Will Lyon Tupman – Ordinand