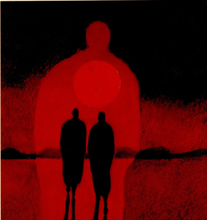 'Let him easter in us.'

 - 

Gerard Manley Hopkins
'Christ is Risen!
There's ecstasy for a moment, sheer, wild, abandoned ecstasy.
And then we have a Bank Holiday.' 
John Pritchard
'If anyone is in Christ there is a new creation: everything old has passed away; see, everything has become new!' 2 Corinthians 5:17
After Christmas there come the 12 days of Christmas that take us to Epiphany. We continue eating, seeing relatives and friends, partying at New Year and celebrating the birth of the Christ child (or using his birth as an excuse for further celebration) until our Christmas trees come down either for Epiphany or at a stretch at Candlemas. Whether or not you believe, there is something about Christmas that touches us all. But Easter has a dramatic, often prayerful, reflective, faith-filled build up in Lent; a weekend of extreme emotions with the despair and anguish of Good Friday, the flat silence of Holy Saturday, the exuberant joy of Easter Sunday – and then it's over. But without Easter there would be no Christmas.
Easter is the most profound event in the Christian church year. It is the reason for our faith. It is the cornerstone of Christianity. The events that occurred after Jesus was left for dead in his cold tomb changed the world, changed the people who witnessed it, and established a new religion - but maybe we have forgotten that they change us.
Easter is a bit too hard. Sometimes we don't know how to talk about it. Because you can't have Easter Sunday without Good Friday, and Good Friday is not something that you can explain easily. It's not a fun story: it's got blood and guts and gore and earthquakes and a lot of baddies. A journey to the empty tomb is not like a journey to the manger. There is no new-born with his adoring mother. No angels. Just an absence.
Most of us love Spring - flowers in the garden, Easter bunnies and chicks. Maybe we love it because it gives us a sense of hope, the promise of new life, the return of summer. But all this newness is not really new – it is the cycle of nature: death, winter, birth, spring. After these births death comes again. And this is one of the problems of Easter – that to deal with the harsh reality of Easter we associate this cycle with the new life ofChrist. When Jesus rose to life, he did not die again. Jesus will never die again. Jesus rising again is what makes us fully human, fully alive. 'Christ has met, fought and beaten the King of Death. Everything is different because he has done so.' (C.S. Lewis). Believing in the resurrection should change not only how we see the world but how we live in the world. We need to become people in whom others can see new life.
Jesus, risen and let loose in the world,
You come to us even in our darkness and doubt With words of invitation andwelcome.
Continue to reveal yourself to us when doubt is strong and darkness deep And in your mercy draw us to safe ground, by the fearless light of truth. Amen.
Lucy Holden