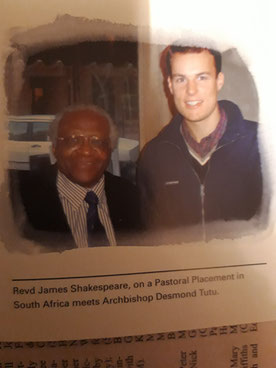 Bishop Desmond Tutu
All at St John's were saddened to hear of the passing of Bishop Desmond Tutu. Our Vicar James reflects here on his time spent with the Bishop.
"When I was at Cape Town Cathedral in 1998, as a theological student, Bishop Tutu presided at Communion every Friday at 7am. I served. In the eucharistic prayers he moved seamlessly between English, Xhosa & Africaans. After, we always shared breakfast in a local Cafe - his humour was irrepressible! Later I witnessed a "Truth and Reconciliation" hearing - he could only do what he did rooted in deep prayer & humanity, bringing out the best in people. We also felt his influence in township parishes, where Desmond was deeply revered; "voice of the voiceless". (Photo, U.S.P.G., 1999)
'Do your little bit of good where you are; its those little bits of good put together that overwhelm the world' - Bishop Tutu
'We are made for loving. If we don't love we are like plants without water' - Bishop Tutu
May he rest in peace and rise in glory.